Perth, the charming capital of Western Australia, offers the perfect conditions for someone who wants to live in the city without getting lost in the masses. As a smaller capital that combines the benefits of urban living with a community-centred slower pace of life, Perth bears several similarities to Australian cities like Brisbane, the capital of Queensland, and Adelaide, the capital of South Australia. If you are looking for the city of your dreams, keep reading to find out why Perth should be at the top of your list!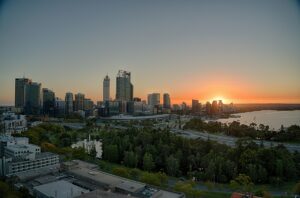 A community-centred urban oasis 
Although Perth is the fourth most populated city in Australia, its population of around two million permanent residents is less than half of that of major capitals like Sydney and Melbourne. The strong sense of community that thrives in Perth is hard to come by in most large cities, which adds to the unique appeal of this capital. The city centre is a leisure and entertainment hub with iconic shopping areas like London Court along with gems like weekend markets, historic architectural landmarks and public art installations dotted all around town.
Perth has a distinctive mix of art, culture and cuisine that pays homage to the city's rich heritage while embracing a modern metropolitan way of life. The city has a lively arts and culture scene with a variegated collection of galleries, museums and festivals that will spark anyone's interest. In addition to a long list of celebrated cultural institutions such as the Perth Institute of Contemporary Arts, the State Library of Western Australia, the Art Gallery of Western Australia and the PS Art Space, the streets of Perth are a dynamic canvas for street art and other public art installations.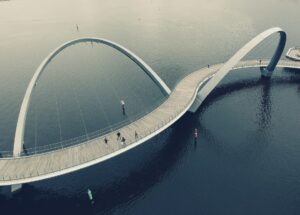 Family-friendly city living
Perth accommodates people of all ages, professions and walks of life. Earlier in 2021, Perth was named among the top 10 most liveable cities in the world on the Global Liveability Index, which evaluates a wide range of factors including healthcare, education, culture, environment, entertainment, business opportunities and more. The city boasts a steadily growing job market in addition to major plus points such as high-quality education facilities, low crime rates, low pollution levels, an abundance of urban green spaces, well-functioning public transport, and a thriving property market. 
The city offers a diverse variety of neighbourhoods to choose from, ranging from suburbs situated on the banks of the Swan River to heritage areas like the port city of Fremantle. The latter is a popular pick among students and young working professionals thanks to the area's lively arts, music and entertainment scene. Another sought-after neighbourhood is East Perth, which presents some of the most favourable living conditions in Perth and all of Western Australia due to its convenient proximity to the CBD while featuring the best of local dining and waterfront sceneries. 
The sunniest city in Australia
Perth is known for its amazing weather, taking the lead as the city that enjoys the most hours of sunshine in all of Australia! The city is blessed with pleasant, warm weather for most of the year with temperatures averaging around 31°C during summer from December to March. Even winters are enjoyable with temperatures ranging between 19-22°C during the day and only slightly dropping at night. Perth's reputation as the sunniest city in Australia is backed by around 140 days of sunshine per year, which contributes to the overall quality of life and the health of residents since people tend to spend a lot of time being active outdoors. 
Ideally connected to international capitals
Although Perth is quite isolated from other Australian capitals, the city is well connected to international destinations. Thanks to its proximity to Southeast Asian capitals like Jakarta, Singapore, Bangkok, Hong Kong and Kuala Lumpur, Perth provides a convenient and affordable point of entry and exit for frequent travellers to and from Australia. Sydney and Melbourne are less than four hours away by plane, although alternative modes of public transport like trains, buses and ferries present accessible and budget-friendly means of travelling around the country. Further to this, Perth provides zero-fare bus and train services throughout the Free Transit Zone, offering a safe and efficient way to commute around the city centre. 
Affordable cost of living
Perth is acknowledged as one of the most affordable capital cities in Australia, offering a significantly lower cost of living along with a higher average hourly income rate than Sydney, Melbourne, Brisbane and Adelaide. In addition to this, Perth's flourishing property market makes the city ideally positioned for new homebuyers. With the lowest median house prices in the country coupled with record-low interest rates, Perth's has given way to a new trend as many people are opting to invest in property instead of paying rent.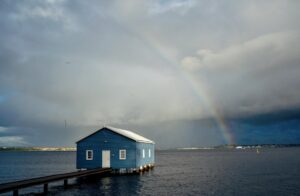 The nature lover's dream
Surrounded by idyllic beaches, nature trails and vineyards, Perth combines everything an outdoor enthusiast's heart desires. Perth is located in the heart of some of the most beautiful sceneries in Western Australia! Just outside the borders of the city, the Swan Valley with its host of wineries, microbreweries, eateries and fresh produce vendors is a popular weekend destination among locals. The Rottnest Island located about 20 kilometres off the coast of Perth is another must-visit for nature lovers. Easily accessible from the mainland via ferry, the car-free nature reserve island promises a peaceful encounter with the natural environment like you've never experienced before. 
Thanks to the unbeatable weather conditions, Perth is the perfect place to explore the outdoors and embrace your adventurous side. Lining the coast of Perth is a world-class range of beaches with prime conditions for water activities like surfing and snorkelling. Even the city centre is a green oasis with a myriad of tranquil spots to relax in such as the jaw-dropping King's Park — a must-see as one of the biggest inner-city parks in the entire southern hemisphere. Home to over 300 species of flora, a 750-year-old Baobab tree and a 52-metre glass treetop walkway along with an Aboriginal art gallery and multiple Indigenous artworks complementing the environment, this park is a national treasure. 
Need relocation assistance or property management services in Perth?
Reach out to Claymore Thistle for relocation services and corporate relocations today to book your free consultation!