When thinking of Australia, Sydney is often the first city that comes to mind. Scenes of Darling Harbour, the Sydney Opera House and the famous Harbour Bridge characterise this capital city for the rest of the world, yet many people don't know much about Sydney's culture and community. Thinking about relocating to Australia but not sure which city is the best place for you? Keep reading for a breakdown of everything you should know about Sydney before moving here!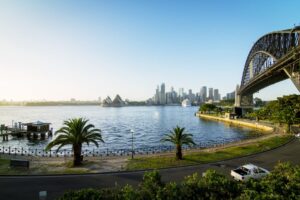 The appeal of living in Sydney
Sydney is one of Australia's most liveable and economically opportune cities, widely loved among tourists as well as people who are relocating both interstate and internationally. So, what is so great about Sydney and why is it such a popular travel destination? Besides the amazing weather year-round, the beautiful beaches and the lively, cosmopolitan city life, Sydney also offers a wealth of opportunities for work and study while hosting a diverse and multicultural community of residents.
Sydney truly offers the best of both worlds, combining the serenity of the outdoors with the excitement of living in Australia's most populous capital city. With the likes of Bondi Beach, Manly Beach and Bronte Beach located less than half an hour's drive from the city centre, Sydney is a dream come true for people who love to spend their days in the sun as much as they love to spend their evenings exploring the buzzing CBD. The city is known for its eclectic wine and dine scene alongside a thriving culture of local arts, music and entertainment. Between the action-packed calendar of social and cultural events and the never-exhaustive list of restaurants, bars and shops to visit, life in Sydney promises zero dull moments!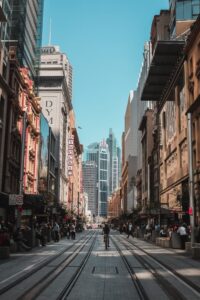 The quality of living in Sydney
A well-established business hub with plenty of room for entrepreneurial activities, Sydney is highly favourable among young professionals. As part of its energetic and youthful demographic, the city also has a large community of students, among which are more than 100,000 international students (Sydney is after all one of the best-rated cities in the world for international students!). Further to this, the growing trend of remote work is enabling people to move around and explore different ways of life without compromising their careers. In this regard, Sydney's ideal location, warm local culture and tropical summer atmosphere certainly contribute to the city's high rank among expats and digital nomads. In terms of other quality of life markers, Sydney has relatively low crime rates as well as low pollution levels along with a high-rated healthcare and education system.
The city has a diverse selection of neighbourhoods to choose from. From inner-city bachelor apartments to four-bedroom family houses with spacious gardens and swimming pools, Sydney has a place for everyone — whether you want to live by yourself, share a house with a bunch of roommates or invest in your dream family home. Living in the city centre and living in a residential suburb each comes with its own benefits. While the city itself has a busier social and entertainment scene, is better connected to the public transport system and offers quicker access to offices and other working locations, suburbs often have a slower pace of life with bigger houses at more affordable prices. Potts Point and Pyrmont, for example, are two vibey inner-city neighbourhoods, both with an exciting nightlife and a flourishing creative scene. Kareela, on the other hand, is a quieter and more family-friendly area in Southern Sydney while the beachside suburb, Manly, has a unique charm with its easy-going surfing culture and laidback holiday feel.
Sydney is a well-connected and highly-functioning city. Thanks to the efficient public transport system, getting around town is convenient and affordable — a major bonus for someone who just moved to the city and doesn't want to buy a car right away. The Sydney Airport is just a 10-minute drive from the city centre, making it easy to travel interstate and internationally. And with Australia's international borders reopening after nearly two years of travel restrictions imposed during the coronavirus pandemic, travellers can finally start making plans and booking tickets again!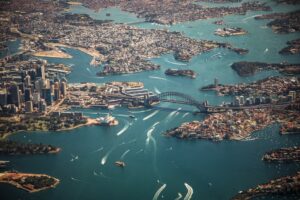 The cost of living in Sydney
Sydney is an expensive city. The city's cost of living is higher than most of Australia's smaller capitals and towns, although it also has a high overall quality of life index with a higher average income rate. The average monthly net salary after tax in Sydney is about 6,000 AUD. To give an overview of the cost of living in Sydney, let's take a look at the basics:
Accommodation: Rent or mortgage usually takes up the biggest chunk of anyone's monthly budget. Inner-city rental apartments in Sydney start at around 2,000-4,000 AUD per month while the same size apartment outside the city centre would typically go for about 1,400-2,500 AUD. The average price per square metre for buying an apartment in the city is about 15,000 AUD and about 9,000 AUD outside the city centre with mortgage interest rates increasing 2.76% yearly.
Food: On average, people living in Sydney spend 160 AUD on groceries per week, which adds up to 640 AUD per month. This number can increase or decrease depending on where you shop and how frequently you dine out. The average price of a meal at a restaurant is around 20 AUD per person.
Transport: One-way train or bus fares average around 3-5 AUD while monthly transport costs typically range from 160-250 AUD. Using public transport is often cheaper and quicker than driving a car in the city (especially during peak traffic hours).
Services: Basic service fees for an apartment in Sydney start at around 100 AUD per month. This includes electricity, water, garbage collection, heating and cooling, while internet rates vary from around 60-90 AUD per month.
Leisure/entertainment: This depends greatly on the kind of after-work and weekend activities you enjoy. Cinema tickets, for example, start at around 15 AUD while entrance fees for events and music festivals can range from 30-50 AUD. A monthly membership at a gym or fitness centre in Sydney starts at around 30 AUD and can go up to 100 AUD and more at boutique studios.
Education/childcare: Preschool fees in Sydney range from 1,300-3,000 AUD per month while annual school fees average around 20,000 AUD.
In addition to these ongoing living costs, the relocation journey to Sydney can be quite pricey. Travelling back and forth between states (or countries) to prepare everything for the big move, deciding on a neighbourhood, signing the papers for your new home, finding the right schools or daycare facilities for your kids, hiring a moving company, arranging for your pets to be safely relocated… The relocation to-do list can quickly become overwhelming, overpriced and overly time-consuming. If you are planning your next move, invest in your future by enlisting the support of a professional relocation expert and property specialist to help you iron out all the wrinkles in the relocation journey while saving time and money.
Need relocation services or corporate relocations?
Reach out to Claymore Thistle today to book your free consultation for relocation to Australia!