So, you've decided to take the leap and move country, but the thought of leaving your beloved pets behind is almost enough to make you drop your plans altogether. Luckily for you and your four-legged companions, no one needs to get left behind. Relocating pets internationally is easier than ever before. Although it can be a complicated, costly and lengthy process, it'll be worth it to make sure your pets can accompany you on your next big adventure! Besides, you don't have to go through the challenges of international pet relocation by yourself. The right relocation agency will help you work through all the travel requirements so that you can focus your attention on checking out the best new local walks for your jet-setting pets.
Can I relocate my pets internationally?
Yes! With the help of professional pet relocation agencies, the moving process doesn't have to give you any grey hair. At this time, only cats and dogs are permitted to travel into and out of Australia. Some exceptions may apply, which you can further discuss with your relocation agent. The travel requirements for bringing a pet into Australia depend on which group of countries you are travelling from. Australia considers three groups of countries, outlined as follows:
Group 1: New Zealand, Norfolk Island, and Cocos Island.
Group 2: American Samoa, Bahrain, Barbados, Christmas Island, Cook Island, Falkland Islands, Federated States of Micronesia, Fiji, French Polynesia, Guam, Hawaii, Iceland, Japan, Kiribati, Mauritius, Nauru, New Caledonia, Niue, Palau, Papua New Guinea, Samoa, Singapore, Solomon Islands, Kingdom of Tonga, Tuvalu, Vanuatu, Wallis, and Futuna.
Group 3: Antigua and Barbuda, Argentina, Austria, Bahamas, Belgium, Bermuda, British Virgin Islands, Brunei, Bulgaria, Canada, Canary and Balearic Islands, Cayman Islands, Chile, Croatia, the Republic of Cyprus, Czech Republic, Denmark, Finland, France, Germany, Gibraltar, Greece, Greenland, Guernsey, Hong Kong, Hungary, Ireland, Isle of Man, Israel, Italy, Jamaica, Jersey, Kuwait, Latvia, Lithuania, Luxembourg, Macau, Malta, Monaco, Montenegro, the Netherlands, Netherlands-Antilles, Aruba, Norway, Poland, Portugal, Puerto Rico, Qatar, South Africa, Reunion, Saipan, Serbia, Seychelles, Slovakia, Slovenia, South Korea, Spain, St Kitts and Nevis, St Lucia, St Vincent and the Grenadines, Sweden, Switzerland, Taiwan, Trinidad and Tobago, the United Arab Emirates, the United Kingdom, the United States, and Uruguay.
What are the requirements for relocating pets to Australia?
Pets travelling to Australia must adhere to a number of medical requirements. The most important travel requirements to keep in mind when preparing to relocate your pets to Australia are the following:
All pets entering Australia must be microchipped and have an official certificate to prove it.
To be eligible to enter Australia, your pets must be up to date with all of their vaccinations within the required timeframe. Australia requires multiple vaccinations which may result in up to five trips to the vet.
Blood tests. All animals travelling to Australia must be vaccinated against rabies and pass a Rabies Neutralising Antibody Titration Test (RNATT).
Import documentation. The permit to bring a pet into Australia can take a couple of months to process, so it is generally advised to start this process at least six months in advance. The earlier, the better.
All of the vaccinations and tests mentioned above must be administered within a prescribed window prior to departure. While there is a lot to keep track of during the preparation stage, your pet relocation agent will help you manage all the requirements on time.
If you have to relocate quickly and its too late to start the pet relocation process, it is possible to fly out ahead of your pets as long as they have a safe place to stay at while you wait for their permits to be approved.
What is the process of relocating pets internationally?
First things first, you need to make sure that your pets are eligible to travel to Australia. A quick check on the Australian Department of Agriculture, Water and the Environment's website will let you know whether your pets are allowed to enter Australia as well as what the specific travel requirements are for the country you are travelling from.
Next up, visit your local vet and find out which vaccinations your pets need to travel to Australia. Your vet will also be able to give you more information about the precise timelines required for each vaccination. Make sure your pet's health certificate is up to date with all of their vaccinations and blood work as this information is crucial for obtaining an import permit.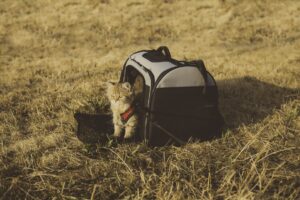 Will my pets be well taken care of during the relocation journey?
Since Australia is an animal-loving nation, there are strict rules in place to ensure that pets in transit are well taken care of. During the flight, pets are secured in travel crates in a temperature-controlled environment. The animals are thoroughly checked before the flight and are the last to be loaded on the plane and the first to be loaded off upon arrival. As soon as the plane lands, the animals are moved to a safe, temperature-controlled indoor area away from noisy vehicles and machinery. Depending on the quarantine requirements, the pets will be collected either by their owners (for domestic flights) or by quarantine staff (for international flights).
Further to this, there are plenty of measures in place to ensure that animals don't get lost or misplaced during the flight. Each animal gets a unique airway bill that is logged into a system on both sides to make sure they safely arrive at their new homes.
Which services can a pet relocation agent provide?
A professional pet relocation agency can help you move your pets safely and stress-free. The relocation agent will take care of all the logistical arrangements and ensure you follow the right timeline to get everything done on time. A pet relocation agent will assist you with arranging vaccinations, blood tests, health certificates, travel permits, transportation, and even getting the right IATA approved pet carrier for your cat or dog to fly in.
Working with a reputable pet relocation agency will help you manage any possible obstacles along the way. The process of bringing pets into a foreign country can be daunting. The smallest mishap or overlooked detail on your end will not only cost you a lot of time and money but can even result in your pets being barred from entering the country. When it comes to relocating your pets, don't take any shortcuts. Rather play it safe to make sure your animal companions are in safe hands from the start of the relocation journey until they are settled into their new home!
Need relocation services, corporate relocations or relocation assistance in Australia?
Reach out to Claymore Thistle today to schedule a call for relocation to Australia!
For more insights into living, working and travelling in Australia, take a look at Claymore Thistle's relocation blog.